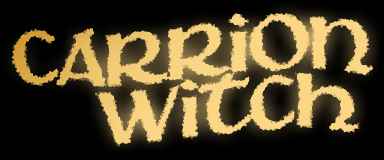 Biography
Carrion Witch are a death/grind/doom duo activated by Michael Morgan and Dave Couillou in 2011. Having previously played together in Dead Ravens, who amicably disbanded in 2010, Mike went on to record and perform with Black Towers while Dave recorded a solo album, "Venusian Skies", as ©ujo.

The "Vestal" EP was written & recorded from May to December 2012 at Defiled Sound in Sarasota, Florida. Thirteen songs were initially recorded sporadically over a seven month period. The earliest songs written & tracked were "Pigf**ker", "Bastard Spit", "Wall of Skin" (originally titled 'Lionel Richie's Ceiling') & the unreleased "Tarantula Mask". As the writing/recording process progressed they broadened their sound. The songs "Three Legged Lamb" & "Limbless Twitching Torso" began to expand in scope, incorporating a touch of technicality. To top off the EP they decided to kick it down a notch for the eerie, slow & brooding "Blood of the Beasts."

A trailer for the "Vestal" EP featuring the song "Bastard Spit" was posted on YouTube in July 2012, followed a month later by a video for "Pigf**ker" in August. Shortly after the release of "Vestal" a video for "Limbless Twitching Torso" was unveiled in January 2013. Recording sessions for their next release immediately commenced and in July 2013 the lyric video for a new song "Uncomfortable with Her Body" premiered. The single followed in December 2013 featuring a re-arranged & re-recorded "Hell Defiler (Doom Version)."

Their first full-length, entitled "Those of Whom I Speak" was unleashed April 2014. Dave & Mike decided in the early stages of its creation to implement their own approach to the 'concept album' format. Instead of telling a story, each group of four songs paint a gruesome portrait of one the four characters displayed on the album's cover, and include some of their creepiest song titles to date, including; "Courtyard of Missing Children", "Broken Teeth in a Spiral Pattern", "Burnt Remains of Playmates" and "Dried Oculus Replaced with Pig Eyes".

In September 2014 Carrion Witch debuted four new songs on the first volume of the Sun Serpent Split Series alongside New Jersey's Firestorm.
Carrion Witch Videos
Carrion Witch Links