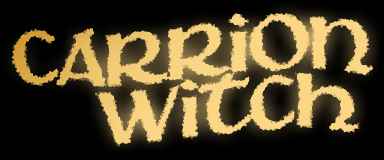 Biography
Carrion Witch are a death/grind/doom duo activated by Michael Morgan and Dave Couillou in 2011. As a studio project, working around Mike's Black Towers schedule and Dave's solo project ©ujo, their debut EP was written and recorded over an eight month span and finally released in December 2012. A trailer for the "Vestal" EP featuring the song "Bastard Spit" was posted on YouTube in July 2012, followed a month later by a video for "Pigf**ker" in August. Shortly after the release of "Vestal" a video for "Limbless Twitching Torso" was unveiled in January 2013.
Recording sessions for their next release immediately commenced and in July 2013 a lyric video for the new song "Uncomfortable with Her Body" premiered. The single followed in December 2013 featuring a re-arranged & re-recorded "Hell Defiler (Doom Version)". They were scheduled to play their first live show at the grand opening of The Once Over Twice in January 2014 but the event was shut down by police before it even began.

Their first full-length "Those of Whom I Speak" was unleashed April 2014. Dave & Mike decided in the early stages of its creation to implement their own approach to the 'concept album' format. Instead of telling a story, each group of four songs paint a gruesome portrait of one the four characters displayed on the album's cover, and include some of their creepiest song titles to date, including "Courtyard of Missing Children" and "Burnt Remains of Playmates". Shortly after in September 2014 they debuted four new songs on the first volume of the Sun Serpent Split Series alongside New Jersey's Firestorm. And they would eventually make their live debut on November 1, 2014 at the originally intended venue. Footage from this performance was later incorporated into the video for "Human Wax Candle in a Yellowed Window".
Carrion Witch are currently preparing to record their second full-length which is due for an early 2018 release, but in the meantime they released their second 12-song short player, "The Chipper EP" on August 25, 2017.
Carrion Witch Videos
Carrion Witch Links