After 3 Years of Silence, Carrion Witch Returns With 2 New Releases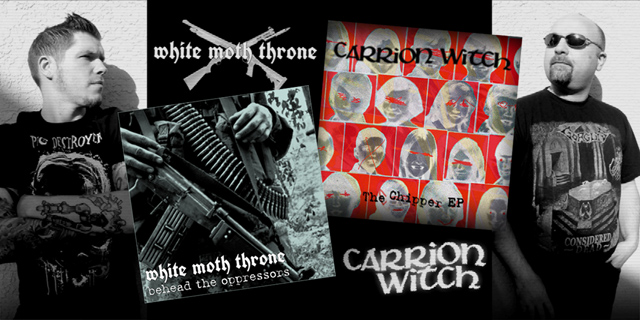 The last new music from the Carrion Witch camp appeared on the inaugural volume of the Sun Serpent Split Series back in September 2014. Sessions for their second full-length commenced in early 2016, but new ideas and various side projects would curtail the process for the remainder of the year. While Dave's involvement with avant-garde electronic duo Kill The Spirit and the resurrection of his 1990's project 40armboy have kept him plenty busy, Mike spent the rest of 2016 attending to more personal matters, namely marriage and the obligatory house-hunting that ensues.
By the time 2017 finally rolled around, Mike and Dave agreed it was time to get back to making some heavy sounds. To ensure the project would quickly bear fruit, they agreed to temporarily return to their roots and record an EP of short, pummeling tracks much in the style of their debut EP "Vestal". While Dave began writing and recording the music for this new Carrion Witch release, Mike began writing songs for his own sludge/grind project White Moth Throne, who just released their debut EP this past July.
"I wanted to use riffs that I have been attached to for some time now, that never surfaced in any previous project," explains Mike when asked what prompted him to activate this new beast. "I wanted to write songs that were sonically different than anything else I had written before. In the process I've gained a lot of respect for the 'solo artist' because you don't have someone to bounce your ideas off of to tell you if they suck. You just write and record and hope that it is received well."
While Mike was busy writing and recording White Moth Throne's debut EP "Behead the Oppressors", Dave was steadily pounding out sleek, sonic lacerations for Carrion Witch's "The Chipper EP" that would eventually be ready for Mike's vocal tracks. With both EP's being recorded at Defiled Sound, it made it easier to cross back and forth between the two projects, helping keep the sessions fresh. "I'm very pleased with how both of these EP's turned out," says Dave. "They are both insanely heavy, but they are quite unalike. A friend of ours compared the Moth tunes to like being boiled alive in hot tar, while the dozen tracks on the new Witch EP are like 12 fatal knife wounds. I think those are pretty accurate descriptions."
The release of the two EP's is in no way meant to buy a few more years for their next releases, as writing has already begun for new full-lengths from both projects which are scheduled for delivery sometime in 2018. In the meantime, check out the video for White Moth Throne's "Tendons and Marrow" directed by Mike Morgan, featuring additional camera-work by Gutchugger's own Mike "Michelé" Jaworski.