Firestorm Set to Unleash Unforgiving Sophomore LP "Raging Inferno"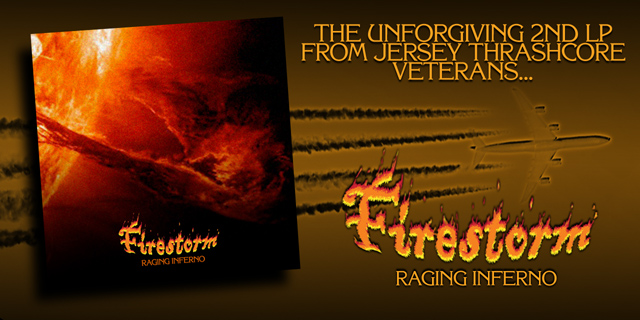 With the release of their second LP "Raging Inferno" Firestorm have harnessed their greatest collection of chaotic thrashcore to date into a volatile 22 minute package. Unrelenting from start to finish, this platter of thrash pays sonic homage to such legendary acts as Bathory, Death and 'Kill 'Em All'-era Metallica. To achieve this aesthetic, brothers Kevin (guitar/vocals) and Robert Nichols (drums) decided to take production duties into their own hands. "The learning curve was the most rewarding part of the making of Raging Inferno," says Robert. "Fixing mistakes and learning what this or that does to the overall sound, instilled in us a new knowledge base where we can now move forward when dealing with future recording sessions."
As quickly as the recording sessions for this album came together, three winters have passed since appearing on Sun Serpent's inaugural split CD, and four years since their self-titled debut. When asked what has taken place in the interim, Rob explains that aside from continuous creation, work and family also play a significant role. "Erik (Christenson, guitar) is a wonderful, committed husband and father, he has been working hard to make sure his girls have a better life. And Mike (Clarey, bass) just got married this past Spring. You could say more is happening outside of Firestorm than inside."
The guys may have been busy, but certainly not distracted. Several of the songs on Raging Inferno have a clear message that they resolutely bring to the forefront in an attempt to open the eyes and minds of their fellow man. "The lyrics that Kevin wrote are based on the reality of our times," Robert declares. "There is no excuse anymore for not being informed." The first single and lyric video for "Blocking out the Sun" turns the spotlight on geo-engineering. "Who does not see the many lines the planes have been spraying in the sky since 1995?" he asks. Other tracks on the album showcase fake media ("Hollywood News Studios") and the country's rapidly growing Narcissism ("Selfie" and "Life's the Stage").
And making a special appearance, Power Plant alumni Francois Fatras lends vocals and attitude to the track "Life's the Stage" which were laid down on the evening of an otherwise somber day. "It just happened that he came to the studio the day we had a Wake for our cousin Scott," says Robert. "I asked him if he wanted to stop by Spooky Sounds Studios and belt out a few lines for the recording session and he said yes. Without hesitation."
Now that the band has acquired their own recording studio, will there be as long of a wait for new material this next time around? Robert doesn't believe so. "We have 3 new songs we are rehearsing. Add to these a few old songs and we will be recording an EP or a Split CD this winter. The well is not dry yet. The new songs are fierce and uncompromising..."
Until then pick up RAGING INFERNO on July 7th and experience that thrash metal sound you've been missing since the 1980's.
And be sure to watch the following important message from the band: