Kill The Spirit Embrace Science Fiction Theme on "Dark Architect"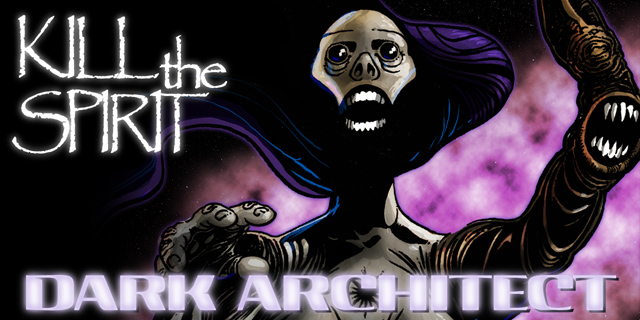 After a brief hiatus to concentrate on solo projects and alternate artistic endeavors, Kill The Spirit return with their fourth full-length album "Dark Architect". A nebulous sci-fi journey through the deepest reaches of electronic space, their newest offering will feature a few new surprises that have not yet graced any of the soundscapes they have previously traversed.
"Dom had an opportunity to drop by Defiled Sound Studio down here in Florida this past September," explains Dave. "It was the first time the two of us were actually composing new material together in the same room. Until then we were e-mailing back and forth and collaborating strictly by phone." On the very evening of Dom's arrival, they premiered two works-in-progress during their interview on WSLR's Open A.I.R. with host Matt Dakan. "The two new songs featured that evening have since been revised for inclusion on the new album," says Dom.
One of the new tracks, "Heavenly Bodies", is the first to feature participation and writing credits from someone other than Dave & Dom. "I have been working closely with a talented new vocalist on a project called Fairest," elaborates Dave. "And she has been kind enough not only to write lyrics based upon the album's theme, but to also contribute her exquisite, ethereal vocal style to the song as well."
Upon further examination, other new ideas incorporated on this forthcoming release include a few more guitar elements than usual. "There is a new track entitled 'Cosmic Subway' that has a Pink Floyd touch to it, particularly a bit of that David Gilmour guitar style that Dom & I have always admired so much."
While the album is still in its final sequencing stages, with some songs still needing a few more elements to round them out, a prospective release date sometime in late January or early February 2018 is likely. "We are holding ourselves to this time frame, as we've already begun work on our fifth album which strictly features classical music elements within a soundtrack structure."