Kill The Spirit's Sophomore LP Closes Out 2016 Release Schedule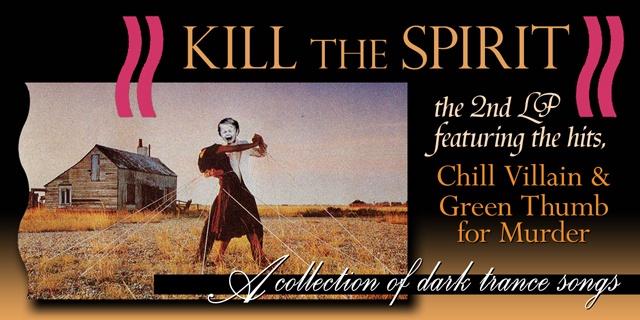 Ever-changing progenitors of sound Kill The Spirit display signs of accessibility on "A Collection of Dark Trance Songs", their sophomore LP, released a mere three months after their dark and haunting debut. While the new LP retains many of the dark twisted signatures as the first, it certainly provides a more beat-driven platter of offerings this time around.

Asked if this difference was a conscious choice, Dave explains, "Well, there was no choice actually. It was simply that given the close proximity of the two releases, most of the tracks on this album were written at the same time as the first, some even earlier. So it really just came down to which tracks fit best together to serve the entire piece as a whole. That being said, the tracklist and running order for the first two albums were simply how these 14 pieces fit best together, as two separate entities."
"And being strictly a studio project," continues Dom, "allows us to concentrate solely on the creation of our next audio canvas." Which in turn would explain such prolific output for a project that has only been active since May 2016. In less than eight months they have released two full-lengths and a remix single, with several more already sketched out for 2017.

Is there a possibility of taking Kill The Spirit on the road in the future?
"Surely," both Dom and Dave attest, "but that would be an entirely new, different, and much more difficult endeavor to undertake. First we'd have to solve the problem of people wanting to see the two of us standing in front of laptops and keyboards. Therefore we must incorporate more visuals, like lights, films and projections, as well as additional live vocals and instrumental accompaniment. Each performance would have to be unique."
With recording already underway on three (yes, three!) new full-lengths, the next actual release will be a bonus collection for "Dark Trance Songs" featuring selected remixes by Severed Headthump, Leaf, "Super Dave" Diaz, Dr. Grievous and Gothcidious.