New Full-Length and Remix EP from Kill The Spirit for Summer 2017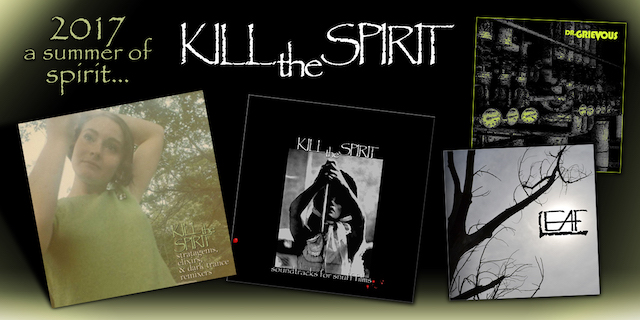 Kill The Spirit come prepared to make sure you summer is filled with interesting sounds. Their first gift to you is a collection of thirst quenching interpretations of select tracks from their second album "A Collection of Dark Trance Songs", in the form of the aptly titled EP "Stratagems, Elixirs & Dark Trance Remixers" - due June 23rd. Artists taking part in this project include Severed Headthump, Gothcidious and "Super Dave" Diaz alongside contributions from Kill The Spirit side projects Dr. Grievous and Leaf.
And following shortly after, on July 28th, Kill The Spirit will further haunt your summer with their third full-length, "Soundtracks for Snuff Films" - quite possibly their strangest release yet. Consisting mainly of shorter, disturbing sound collages, Dave & Dom once again take KtS to another extreme, this time challenging the listener to absorb this presentation on a dark summer evening with the lights extinguished.
And if that weren't enough to leave your sanity unhinged, the debut by Dave's side project Dr. Grievous is available now to help prime your tender psyche for the forthcoming sonic tidal wave. And later this summer, as the deluge subsides and retreats back to sea, Dom's ambient side project Leaf will ease your sunburnt and tattered nerves, like a soothing balm after a deserved whipping.
Release schedule:
Dr. Grievous - self-titled, Available Now
Kill The Spirit - Stratagems, Elixirs & Dark Trance Remixers, Available June 23, 2017
Kill The Spirit - Soundtracks for Snuff Films, Available July 28, 2017
Leaf - self-titled, Available September 15, 2017