Split Series Vol.3 to Precede Debuts by Dr.Grievous & Leaf
February 25, 2017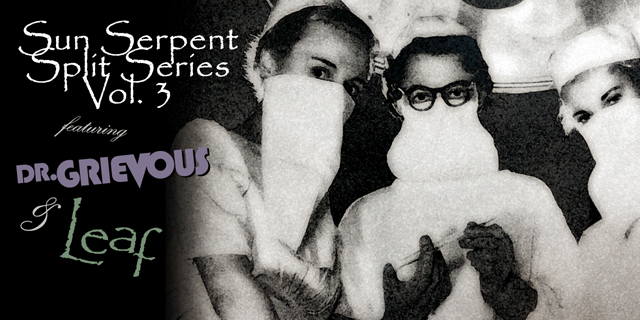 Expanding beyond their collaborative mother-project, Kill The Spirit co-founders Dave Couillou & Dominic Montalbano will debut their solo electronic endeavors Dr. Grievous & Leaf, respectively, on the third installment of the Sun Serpent Split Series.
Asked to elaborate on how this new output differs from Kill The Spirit, Dom describes his electronic/ambient/trance project Leaf as, "much more relaxed, with a different overall feel. Leaf is more mellow, as opposed to KtS which has so far showcased a darker, stranger, more ominous tone."
If Leaf is traversing a less chaotic route, it is fair to say that Dave's dark ambient/power electronics project Dr. Grievous is taking things in quite the other direction. "Grievous is dark & unnerving," he explains. "Rhythmic noise, atonal & devoid of structure. But certainly not devoid of message or purpose."
Dave goes on to explain the intention of a split project as opposed to a new Kill The Spirit release. "When working on a KtS album, even if we're not collaborating directly on every track, Dom & I both are still working from the same muse. Whether it be an old photograph or a story, we have a totem - a focal point. The material exhibited on this split was created individually & independent of that influence."
How will these projects affect Kill The Spirit's early prolific output? "I don't think it will change much," declares Dom. "We may take a little more time with releases, but only to refine our ideas as we compose & create new KtS material."
"And we're certainly not short of KtS material at the moment," Dave professes. "Our next LP 'Soundtracks for Snuff Films' is near completion, the follow-up 'Dark Architect' is already underway, and before that there'll be a CD of remixes from the 'Dark Trance' album."
No shortage of material indeed. In addition to the aforementioned forthcoming Kill The Spirit releases, Dave & Dom's new projects will follow their split appearance with an LP's worth of material each of their own, with the first full-length offering by Dr. Grievous in early April, matched later this summer by Leaf's debut.
Sun Serpent Split Series Vol.3 featuring Dr. Grievous & Leaf will be available March 24, 2017