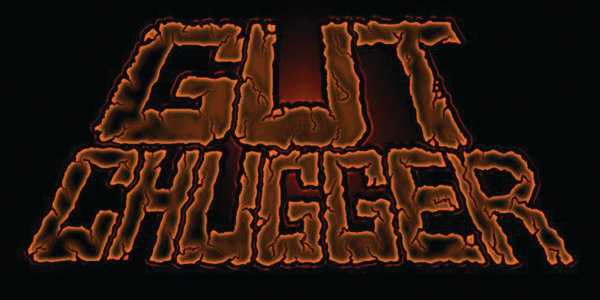 Biography
With a complete DIY Quorthon-style approach, Xavier created, performed & recorded Gutchugger's 1994 self-titled debut. To inspire his cacophonic compositions he devoured & absorbed all of the depraved discordance then oozing from labels like Earache, Nuclear Blast, Century Media & Roadrunner - just to name a few. Once reaching musical inebriety, he aurally vomited forth his own vile blend of salacious delights.

After spending a year on other projects Xavier returned in 1996 with the limited cassette release "Unhealed Cuts" featuring nine new songs in demo form, three of which would be properly re-recorded at Sweetwood Sound by Alap Momin and appear on the "Dominion" EP from 1997. Aside from Momin's production assistance, Gutchugger was strictly a one-man project up to this point.

In 1998, Xavier recruited fellow musicians and artists Kilmour (drums/guitars), Michelé (lyrics) and Adulf (bass) to assist him in writing and recording Gutchugger's magnum opus, "Amputee". With Momin back at the mixing board, Xavier set forth on his first recording to incorporate assistance from other musicians. With Kilmour contributing drum tracks, riffs & solos and Adulf handling bass on several tracks, things quickly developed into a group project. Even lyricist & samplist Michelé provided backing vocals that would make any Bill Steer fan proud.

Released in 1998 on Sun Serpent Records, "Amputee" was met with critical praise. A cassette single for the song "One Day War" accompanied its release and featured a cover of Slayer's "The Antichrist".

After a long period of dormancy, 2011 saw the release of the 13th Anniversary Edition of "Amputee" as part of Sun Serpent's "Re-issue Series". In 2014 Xavier announced what was to be the 20th Anniversary release of the original Gutchugger demo. While the Anniversary release never materialized in 2014, a Remixed & Remastered 2-Disc Set was unleashed on Christmas Day 2015. This 29 song compilation features the original 1994 "Gutchugger" demo, the 1996 "Unhealed Cuts" demo, the 1997 re-recording of "Gutchugger" and the Alap Momin produced "Dominion" EP from 1997. All of these titles were out of print prior to this release.

Following the remastering project, Xavier has once again acquired the talents of "Amputee" alumni Michelé and Kilmour to assist him in writing and recording the long-awaited follow-up to their 1998 full-length. "Antiquity Embrace" will feature Gutchugger's signature vintage death metal sound and a video for the new track "Through Dirt & Snow" should hit the airwaves winter 2017. Other titles set to appear include "Night of Lasting Spirits" and "Immense Necropolis". An early 2018 release is expected.
Gutchugger Videos
Gutchugger Links